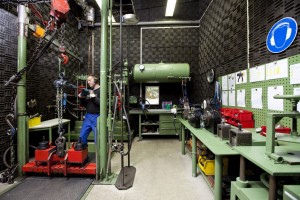 test program
 hoists BGV D8 (VBG8)
 Load receiving means BGR 500 (VBG 9a)
 Handling BGV D27 (VBG36)
Personal protective equipment

BGR 198 (ZH1/709)
BGR 199 (ZH1/709)
Must hoists, material handling equipment, personal protective equipment and lifting annually undergo an expert assessment. All decreases this type are UVV compliant performed in our house at our own test facilities.
BGV D8 with the example of a manual hoist:
Matching the specified device data
Visual inspection and functional test
Review of the hook (mouth width, deformation, cracks, wear)
Check the chain (visual inspection for deformation, elongation, wear, measurement of limb strength, corrosion pits)
Check the manual lever (deformation, wear, cracks, …)
Check the gear on running properties
Lubrication of critical components (chain, pinion, etc.)
Installing the device and then load test (25% overload)
Documentation of the defects or test values via checklist / work card
Painting and inspection sticker
Creation of the test report
We take on the desired monitor and plan your exam dates.
---