Your partner for service and trade.
Pneumatic tools, hoists and lifting devices, power tools, hydraulic components and hydraulic tool.
The DRUWEKO GmbH was founded in 1971 and has evolved through quality and performance in this period of market leader for industrial tools in Germany.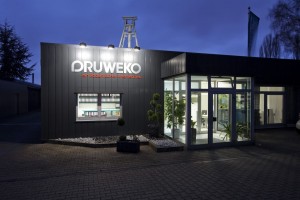 On a total area of approximately 13,000 square meters and a floor space of about 2,400 square meters, a repair service provided by more than 3,000 units per month.
Our customers come from the fields of…
agricultural Engineering
Plant and equipment
Automotive Industry
mining
chemical Industry
tricity supply
Construction / Civil Engineering
Industrial / piping
communications industry
Food industry
logistics

aviation
engineering
refined petroleum products
Furniture Industry
shipbuilding
steel Industry
Industrial gases
environmental
raffic Engineering
Wind power
 We want to be No. bein quality and value and the advice and service.
We claim, the first address for the repair of
Pneumatic tools
Hoisting / lifting equipment
Power tools and
hydraulics components
to be.
---
Guidelines
The customer is the most important figure of the house, regardless of whether he personally write or call us in contact. The customer does not depend on us, but we from Him. A customer never bothers us while you work! We do him any favors in that we serve him, but he is doing us a, in which he gives us an opportunity. A customer is not someone who has to fight it. No one has ever defeated a customer. A customer is the one who plays with his desires for us! It is our endeavor to fulfill these requirements perfectly for him and for us. This is true in our profession – as in all other.
We look at the market and its changes as opportunities and oriented toward the needs and goals of our clients. So we get a long-term partnership. We offer our customers the best system and product solutions and services. For this, we provide expertise, commitment, flexibility and innovation.
Each (s) employee (s) with our company is responsible for the quality of their own work and compliance with specified requirements. By intensive procurement, they ensure that the deliveries are on time and properly.
Connecting with our suppliers, we make partnership and long term. From them, we expect reliability, flexibility, performance and innovation.